It's been two years since I've moved back to Israel. There have been ups and downs. Many of both. I'd like to dedicate this post to speaking about the eleven most defining moments of these two years. These are eleven events or moments that had and continue to have an endless impact on the success of my experience here.
*Full disclosure: I wrote this post many, many months ago. It was only going to be ten items. I kept #8 in here, more than anything for its irony and retroactive humor. And the newest item jumped ahead to the #1 spot. That is how unexpected this fortune truly was in my life.
Defining moments:
Defining Moment #11: I Started Hosting for Shabbat of a Lifetime
The moment I found out this was a thing, I wanted to jump on board. And since then I've delightfully filled my home with Shabbat guests from North Carolina to Urk to Adelaide. I've met an 82-year old Jew from Switzerland coming to Israel for his first time, making sure to get here before he leaves this world. I've entertained college students on an entrepreneurial tour of Israel. And I've paused for a moment of silence alongside Dutch guests, as we commemorated the Holocaust while they were doing the same throughout Holland.
I've enjoyed every moment. Sometimes I'm shocked it took me so long to find this!
Defining Moment #10: Removed the Stressors
At some point along the way I realized there were little things that were causing me undue stress in Israel. Most obvious were the buses and the grocery store. I know it might sound trite, but both experiences made me so frustrated and hostile, that I knew I needed to seek some sort of change.
At this point, my entire life is basically within walking distance of my apartment. The longer walks don't bother me. They're actually quite enjoyable. And much more so than any bus ride here!
And I found a grocery store right under my gym that, despite having definite room for improvement, doesn't make me want to leave the place and start smashing everything I see.
Defining Moment #9: Started this Blog
Blogging for me is a profoundly important hobby. I've got four decades worth of processing to do, and I know that if I can get my thoughts, feelings, and experiences onto paper in a coherent fashion, each time I'm a step closer to healing the many wounds that have accumulated over the years.
Writing these 60+ posts for over a year now has provided a high level of catharsis, so much so it's inspired me to write and publish my first eBook. And the moment I clicked the button to publish, I was already starting to write the next one.
Defining Moment #8: I Stopped Dating
When I moved here, people started to try and set me up with dates right away. Everyone knows someone who's looking to get hitched… and, well, I guess I could potentially help them cross names off their hit list.
But I wasn't enjoying it. At all. I wasn't ready. Didn't know when or if I ever would be. But one thing is for certain: I was enjoying every day of my life. And removing an element from it that just annoyed and frustrated me had freed up my days to just grow and learn and smile and thrive.
I was enjoying every day of my life... Removing an element that just annoyed and frustrated me had freed up my days to just grow and learn and smile and thrive. Click To Tweet
Defining Moment #7: I Got My Current Job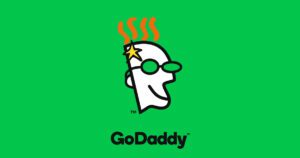 I love the company I work for and the lifestyle it allows me to have. But what's truly amazing is how my work situation came to be.
When I was moving back to Israel, I heard from countless sources that securing a job before stepping foot in Israel is impossible. Impossible! Not challenging, not unlikely. Impossible.
But I couldn't accept that. With not a whole lot of cash at my disposal, four children, and pushing 40, I was not about to cross the ocean and start over again without a source of income. I was not about to sleep on couches and hope for the best.
I persisted. And I pulled out every resource I could find. And in a matter of months I was training for my current role, getting myself ready to work full time on my second day in Israel. It feels like a miracle. And I feel blessed.
Defining Moment #6: I Jumped out of a Plane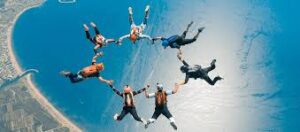 Yes, it was a fun, once-in-a-lifetime thrill. But it was so much more than that for me. I've maintained a bucket list for years, but since then I had watched as only one barely significant item got crossed off the list. That is, until I tackled bucket list item #1. There were times along the way where I thought many of the items would just be forgotten. Going skydiving gave me renewed hope that there's nothing I can't and won't try and accomplish.
Defining Moment #5: I Moved into the Right Apartment
I've amassed ten years of living in Israel. Throughout those years I have faced more apartment issues than you can imagine, from plumbing issues to cockroaches to crazy neighbors. And in all those years I have never had a landlord I  liked or trusted… until now. My apartment is fantastic. I love my neighborhood. And my landlord is absolutely wonderful.
I'll never forget when there was a tiny drip in my bathroom. Based on prior experiences, I was afraid to even tell him. He began dealing with everything right away and thanked me for letting him know!
In my previous neighborhood, I felt like I was living inside one gigantic, loud, dirty party that I wasn't even invited to. But I can actually see myself living here for quite some time. Who knows? Maybe forever.
Defining Moment #4: I Moved Closer to My Daughters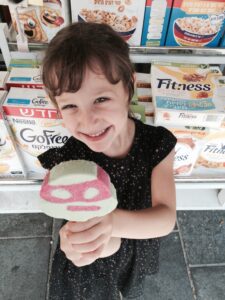 One of the perks of my new apartment is I am super close to my daughters. We can and do see each other all the time. For my first ten months in Israel I was not just living in the wrong neighborhood, but it was bit of a schlep to get to and from my three beautiful angels. Now we can see each other whenever we want. It's never complicated or inconvenient. I sometimes bump into them by accident. Need I say more!?
Defining Moment #3: I Got a Dog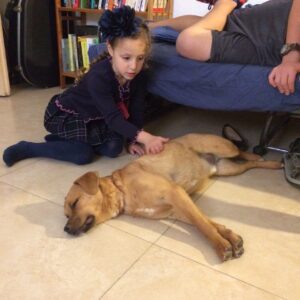 March 4th, 2017, the most amazing, adorable creature became a huge part of my life. I adopted Frank knowing full well there would be challenges and tons of responsibility. However, I had three goals in mind: 1) I wanted my son to have some more responsibility in his life. 2) My two youngest daughters were terrified of dogs, and I wanted to get rid of that. But more than anything: 3) I wanted my son to feel what I call "dog love". That incredible, unadulterated, unconditional love that dogs excel in more than any human.
My son embraced the responsibilities like a champ. My daughters not only adore Frank, but they will interact with all dogs now. And my son couldn't imagine a world without him. Frank has truly become a member of our family.
Defining Moment #2: My Son Moved in with Me
On my second day in Israel, my amazing son moved in with me and has been living with me ever since. Every single day our relationship gets better and stronger.
When my children moved away from me, it easily could have destroyed me. It almost did. This has been the biggest factor in my recovery. I returned to Israel not just to be closer to my children, but to actively be a father to my son every day of his life.
He's so happy to be living with me. But my joy is worlds beyond what he could ever fathom.
It was without a doubt the most significant of my defining moments since returning to Israel.
Until…
Defining Moment #1: I Met, Dated, and Got Engaged to Devorah Levine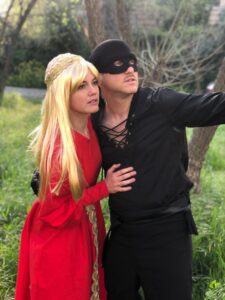 Oh, the irony. I stopped dating (#8)… and a year later met the woman of my dreams (basically by accident). There's so much to say about our beautiful relationship. I imagine there will be many posts to come on just about my favorite subject.
You could easily argue I should have left #8 off my list, but I still think it's a big part of my story, and arguably the only reason I was able to meet and date Devorah was because I was not looking.
Devorah, meeting you isn't just the most defining moment of the last two years. It's the most defining moment of my entire life. Moving back to Israel was not easy, and I've doubted the decision many times along the way. But I doubt it no longer. I am beyond grateful that you are in my life.
I love you. Now and forever!