41: A Year in Review
I can't believe I ended up 41. I created my blog on my birthday last year. I was terrified about turning 40. Honestly, I'm still not ecstatic about it. But I'm learning to wear it well.
One of the reasons I was so uncomfortable was a terrible, nagging feeling that I was somehow behind. Like I hadn't done enough with my life. As if way too much of those 40 years had gone to waste.
And in the blink of an eye, another birthday rolled around. And now I'm 41.
I want to take a look at what happened in year 40. You tell me whether the time was used well.
41: The Year of Couch Surfing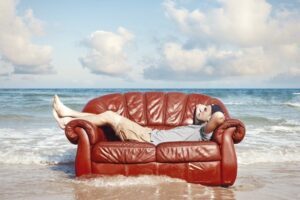 This past year I finally hosted my 100th couch surfer. I've since left that number in the dust. I have wonderful friends and connections all around the world and fantastic stories about the people I've met along the way. In fact, it was one of my early surfers who motivated me to get this blog going.
41: The Year of Jaffe World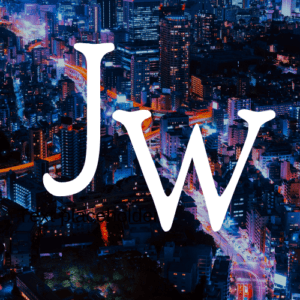 Since beginning my blog adventure, I've consistently posted once a week. And I've reaped the catharsis that comes along with it. I finally transferred everything over to my own website, and even though it's far from perfect and I've got so much to learn, I learn more every single day. It's quite an adventure, and I'm still loving it.
41: The Year to Teach Like a Ninja

While researching about blogging, I came across the idea of writing eBooks as a method of creating passive income (I would LOVE if at one point I felt qualified enough to write about my successes with passive income). I felt like it was the perfect logical next step to take subjects I'm extremely passionate and knowledgeable about and explore them in depth. So I set out to write a book about what I learned about teaching in my illustrious nine years in the field, and the result is Teach Like a Ninja. Buy it. Buy two copies!
41: The Year of Shabbat of a Lifetime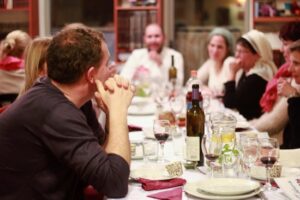 Just when I think my Shabbat meals couldn't get any more fun and interesting, in this phenomenal year I started hosting for Shabbat of a Lifetime. Next thing I know, my Shabbat table is filled with university students from North Carolina studying Israeli entrepreneurship, fundamentalist Christians from the fishing town of Urk, a professor of Judaic studies from the University of Nanking, and so many more interesting people and stories!
41: The Year of Skydiving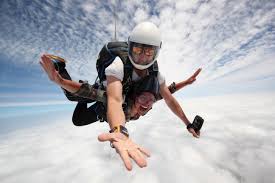 This year, I received an email from Alyn Hospital asking if I wanted to participate in their upcoming skydiving fundraiser. I asked my son if he wanted to do it with me, and before I knew it, I had almost no time to raise $2,000. But raise it I did. In ten days! For making that possible, I cannot not express enough gratitude to the most amazing friends, family, and colleagues anyone could hope for.
The dive was exhilarating. The fundraising was fulfilling. But more important than anything for me was my renewed vigor to make all my dreams come true. I waited twenty years for the right opportunity to jump out of a plane. Not only did I give my boy the ability to walk around knowing how far ahead of the game he is, but I got to remind myself that if I could make this happen, the sky is the limit (both literally and figuratively).
41: The Year of the Dog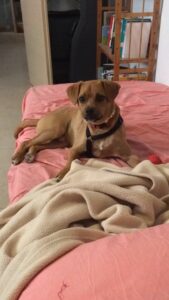 This year we celebrated one year with my buddy and loyal pet, Frank. Admittedly, I wasn't sure I would be a decent pet owner. My ex and I had a small dog many years ago, and I can honestly say it was an absolute failure. I had no idea whether or not I could actually be a good pet owner, and unfortunately my only experience so far had shown me I couldn't. But my son and I lucked out. We got the perfect dog, who adores people and other dogs. He plays hard and rests hard. And now we can't picture life without him.
41: The Year of the Gym
Despite being extremely busy, and battling what seems to be the new annoying injury of the month, I've still managed to get to the gym five days a week most weeks, and I've maintained quite the healthy lifestyle. It's not easy. It's certainly not cheap. And building up the motivation to go is an ongoing task.
But I've proudly made the gym a permanent fixture in my life. I've kept myself away from diabetes (I've been pre-diabetic for nearly two decades). Somehow or other, I'm not overweight. And until they learn I have a 14-year-old child, most people guess I'm in my late twenties or early thirties.
No, I didn't get that six-pack by 40 I was hoping for. Nevertheless, still proud!
My son and I lucked out. We got the perfect dog, who adores people and other dogs. He plays hard and rests hard. And now we can't picture life without him. Click To Tweet
Work, Work, and More Work
Israel can get a bit on the expensive side. Thank goodness, I'm blessed with a wonderful job that seems to cover most of our needs. But in this wacky country where every penny counts and side expenses tend to pop up from every corner, I needed to find some way to supplement my income a little. It took me a bit of time, especially since my parameters were quite limiting. The job or jobs needed to be on my own schedule, done from home, at basically my own pace, and without too much communication (meaning, they send me what to do, and barring issues, that's all we discuss).
The main reason for all of this was because I want to live every day of my life. I want to make food for my son, go to the gym, and relax. I don't want life to be work. And after a hefty amount of searching, I finally found little side gigs that give me everything I need. I'm doing some freelance writing and editing for Vienna Itineraries and the Private Redemption Foundation. I'm happy, busy, and have a few extra dollars in my wallet.
So Much More to Come
Year 40 is now behind me. You'll hopefully pardon my vagueness, but it's ending quite well. Arguably the best year of my life. I can all but guarantee that my 42nd will surpass it by leaps and bounds.
Keep an eye out. There's so much more to come!