A sad part of my Israel experience is I never really got to be a tourist here. I've never visited the country. The first time I tried, I was here for a year, but I behaved very early on like I was in my new hometown, quickly became a citizen, and ultimately the one year became eight.
So there are parts of my Israel journey that are lacking, and it's very sad for me. Israel is a very challenging place to live in… but it looks like an absolute blast to visit.
The Full-On Tourist Experience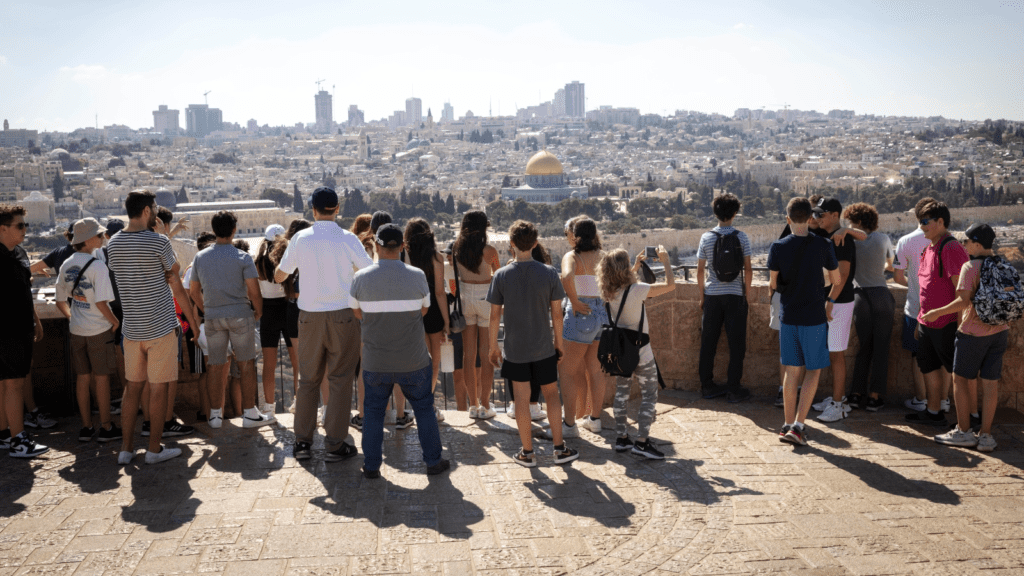 I don't know how it can happen, but I hope to one day have a full-on Israel tourist experience, and feel that "visiting magic" I've just never gotten.
That all being said, I just crossed a big part of the tourist experience off my list. After a total of fourteen years in Israel, I finally made it out to Eilat. And… loved it!
What a gorgeous, exciting, and simultaneously relaxing city!
And trust me, anyone who knows me knows I don't sugarcoat Israel. If I thought the place was trash, I would say so. In the last several years, I've been to places like Holon, the Dead Sea, and Netanya, and I will proudly say they are dull, overrated, and gross, respectively.
But not Eilat! I left wanting more, and a few days later, I miss it.
Thinking of heading out there?
Here are four things I learned from the experience:
1) The Two Eilats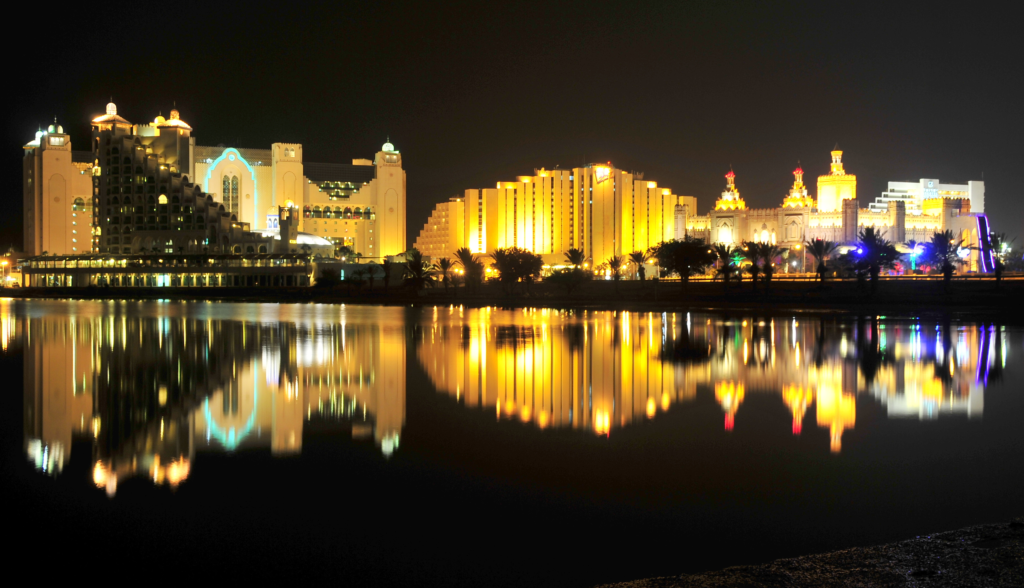 First things first, Eilat has two drastically different prices. It's very tempting to make a weekend trip out there, but I wouldn't recommend it. It's just as good if not better during the weekdays, so take some time off of work, save yourself a whole lot of money, and go on a Tuesday. You'll have an almost identical experience, but you won't feel like you'll need to sell your car in order to make it happen.
That being said: There is one time that seems to be more exciting than all the others, and that's Friday night. So, if you're non-observant, you're not Jewish, or you really enjoy watching other people have an amazing time without participating yourself, then by all means, spend the cash and enjoy your weekend in Eilat.
We walked through the center of the city and it was super stimulating. Tons of people, shopping, and activities… we were really excited to actually participate the following night. But it was too late. The city is on fire on Friday night… and fast asleep by 9PM on Saturday night.
So based on what you want to get from your Eilat experience, plan accordingly.
We'll for sure be back at some point… but we'll happily come mid-week, and use the enormous savings to do some of the massive amounts of fun activities Eilat has to offer.
2) Eilat is Hot… But is it??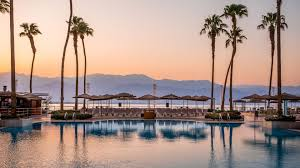 So before heading out to Eilat, I basically knew one thing about the place. It's hot. Real hot. Like, don't stand in one place too long or you'll melt into the asphalt hot.
Hence, I left my sweatshirt in the car for Shabbat, thinking I wouldn't need it at all. And boy was I wrong. We took a nice long walk our first night in town (ya know, to see other people doing all sorts of wild things), and I was really chilly.
It was early February, so I can't speak about Eilat in the summer, but I can definitely tell you this: Eilat is Paradise by day, but quite different when the sun goes down. Bring a sweater or a jacket or something. You might not need it, but if you do, you'll be happy you have it.
3) To Drive or to Fly?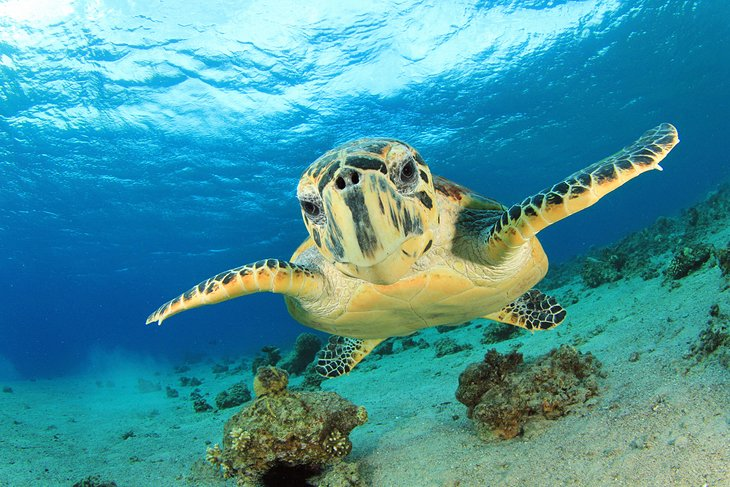 Speaking of the car… we drove down to Eilat. It's quite a journey. Over four hours, much of which is through the attractive yet not exactly enthralling desert. And driving seemed like the obvious choice for us.
Yet, we spoke to a lot of people when there. One pair we met took a bus, and literally every other person we spoke with flew in from Tel Aviv. Which to me seems ludicrous… but everyone else seems to think it's the way to go.
So if you're heading out to Eilat, you need to figure out the best choice for you. To be clear: Flying won't save you time. You'll still need to get to and from the airport, on both sides. Plus all the classic airport waiting around. And when you arrive, you won't have an easy way to get around.
Driving might save you a few bucks, but between exorbitant gas prices and the wear and tear on you vehicle, it might not be all that much of a savings.
So really it all boils down to: What do you want more? Avoiding lots of driving or the convenience of doing everything in one mode of transportation and getting around the city with greater ease.
I feel like nine times out of ten I'd choose the latter… but that's just me.
4) Israel on Vacation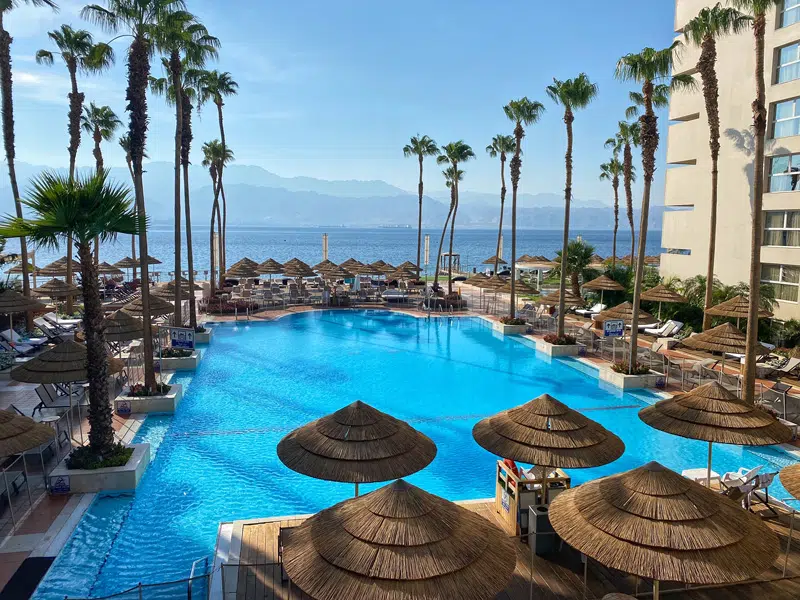 Finally, I learned what Eilat really is: For the most part, it's a vacation spot for Israelis to escape normal, everyday life.
For sure non-Israelis come to Eilat, but in the three days we were there we heard almost exclusively Hebrew and virtually no English. It was like several thousand Israelis uprooted themselves from the craziness of Jerusalem and Tel Aviv and Haifa and Holon just to get away to the middle of nowhere and take a brake from Israel's madness.
And it worked!
I have a tough time with the Israeli mentality. It's an aggressive nation. It puts me on edge.
And yet, things felt different in Eilat. Israel was on vacation. People drove a little better. Smiled a tad bit more. Smoked just a little less.
And it was nice. Real nice.
We've been back from our little Paradise, our little break from real life, for a few weeks now, and something happened that rarely happens for me.
I miss it! And I want to go back.
Yeah, I know it's fake. I know it's like an exclusive vacation village, and it's not a lifestyle one could ever really live for a long stretch.
But I want to hold on to that feeling. I want to remember what it was like.
Israel was on vacation from Israel.
And it was glorious.